Midfielder Nguyễn Hoàng Đức of Viettel FC was awarded the Vietnamese Golden Ball award 2021 at a gala in HCM City on Wednesday night.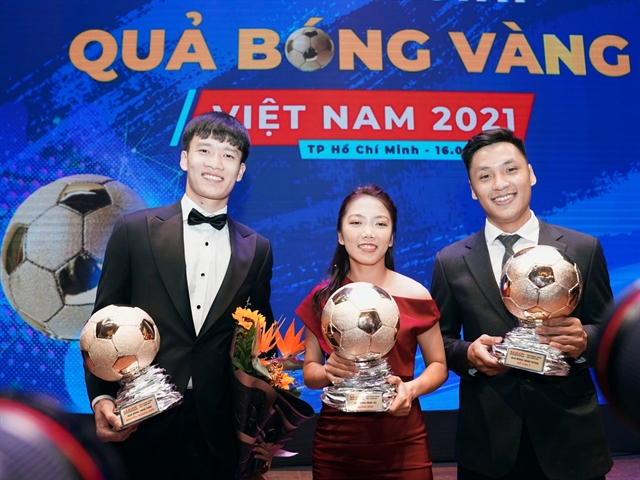 Nguyễn Hoàng Đức, Cù Thị Huỳnh Như and Hồ Văn Ý at the gala in HCM City on Wednesday. — Photo 1thegioi.vn
With 466 points, Đức took the award for the first time. Midfielder Nguyễn Quang Hải and striker Nguyễn Tiến Linh were in second and third positions with 372 and 205 points, respectively.
Đức has had a superb year. From being just a reserve player, he was given the opportunity to play in the national team, and made a big impression when he first played for Việt Nam in a 2-1 victory over Malaysia in the second qualifying round of the 2022 World Cup.
He successfully replaced midfielder Đỗ Hùng Dũng who was absent due to injury.
Now he is an indispensable asset for coach Park Hang-seo in the third qualifying round for the World Cup.
In the women's Golden Ball category, striker Cù Thị Huỳnh Như of HCM City won the top prize at a canter. In 2021, Như won the top scorer and best player award at the National Women's Football Championship. In addition, she was captain of the Vietnamese women's team competing successfully in the 2022 Asian Cup to earn a spot in the Women's World Cup.
This is the third time in a row Như has been given the Golden Ball award. She was voted with 554 points, leaving the two other nominees, Phạm Hải Yến (201 points) and Nguyễn Thị Bích Thùy (140 points), trailing in her wake.
In the futsal Golden Ball category, Hồ Văn Ý of Thái Sơn Nam Club won gold. The silver ball went to Châu Đoàn Phát of Thái Sơn Nam and the bronze went to Nguyễn Minh Trí of Thái Sơn Nam.